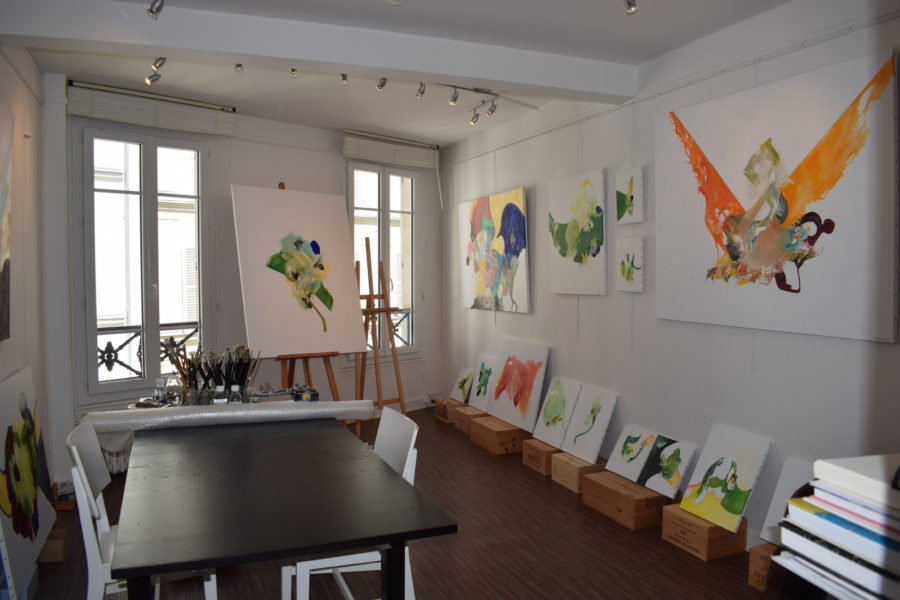 Date of birth: 13.07.1961
Place of birth: Österbybruk, Sweden
Place of residence: Paris, France
Where did you train?
My knowledge comes first from training in "Dalecarlian painting" (Sweden, 1780-1870). Once settled in Paris, I started my degree in Culture and Linguistics at the Sorbonne, D.E.U.G. as well as a Master's Degree in Modern Languages in 1993. Those studies were completed by private tuition in abstract painting with Mme Béatrice Level.
My meeting with Marianne Bernadotte in 2005 became the determining moment for my artistic future. A degree in Art History from the University of Stockholm, she's the creator of the Marianne & Sigvard Bernadotte Arts Fund. She encouraged me to take up painting full-time.
When and for what reason did you settle in France?
I came to Paris for the first time in 1983, for a two-year sabbatical. I was only 21 at the time. Once back in Stockholm, I felt like a stranger in my own country. Four years later, in 1987, I came back to France to study. A long journey of initiation to fully integrate into French society followed: learning a language, codes, the history of a people, finding new bases and a new identity. And all that with university studies and travelling all over France. I was happy, bewitched and completely unaware that I would still be here 30 years later.
What does France represent for you?
France, and particularly Paris, my town, represents a true cultural and historical treasure. Its cosmopolitan aspect plays an essential role for me: the diversity, the contrasts and the influences nourish my artist's soul in a fundamental way. Its exceptional architectural and aesthetic setting that surrounds us, forms, guides and enriches me. I identify with Paris. I'm an integral part of it, I live and breathe in the city. France and its magnificent landscapes, its traditions, its gastronomy, its arts, its language represents a considerable source of knowledge and inspiration for my work. The fluid and intense pulse of the city perfectly feeds my creative force. I felt it as soon as I arrived in Paris actually, like a rebirth. I feel incredibly lucky to have had two cultures, two languages and two experiences in one single life.
What about Sweden?
If Paris seduced me with its elegance and amplitude, I found the same power in the majestic nature of the north: a beauty, serenity and luminosity without equal! Both nations and their traditions reflect one another and constitute my heritage and roots. For me Sweden is a creative source without equal. Sweden has rocked and nourished my child soul. It has offered me my mother tongue and my first sensorial discoveries, the love of a family. It is the essence of my very soul and being. A reference tool. For me Sweden embodies peace, equality and respect facing nature and beings. It's a modern country, creative and innovating.
What are your sources of inspiration and where do they come from?
The white blank canvas inspires me in an absolute way! Everything is possible, the world is open! The first line becomes the foundation. The crucial moment on which you can't go back and that undoubtedly guides the conception of the work to come. The first gesture accomplished always remains essential. The accomplishment of the rhythm, the gravity, the speed, the movement and colour of that initial gesture determines forever the atmosphere of each work.
The inspiration can be found in a blade of grass that sways in the wind as much as in a huge painting made by a master. The essential is not greatness in itself or something exceptional but the relation between me and the objects, between me and the human beings I meet. When memories are in harmony with the immediate moment, it's then that something alights inside me! That I burn! At that precise instance the world opens up, free and irresistible, and I'm ready to conquer it.
How would you define yourself and/or would you define your work?
To paint is a life choice, to discover the world and our fellow human beings. My role is to transmit a multicolour emotion, to offer radiance and tone. A language. It's a journey towards the inside, the world of souls; and towards the outside, where unexpected opportunities for discoveries and objectives to achieve await us. It's a matter of seeing, discovering and daring to exist infallibly and without exception on a backdrop called: life!
A painting is not only a different facet of life, but also a total and contrasted expression that frees from countless atmospheres and influences. It is a document of life, unique and instantaneous. The movements, nuances and structure of the colours, the construction of the motif and the story expressed by the artist interact with the spectator, reflect and define the force and the beauty of the soul that each human being possesses through his actions and his words.