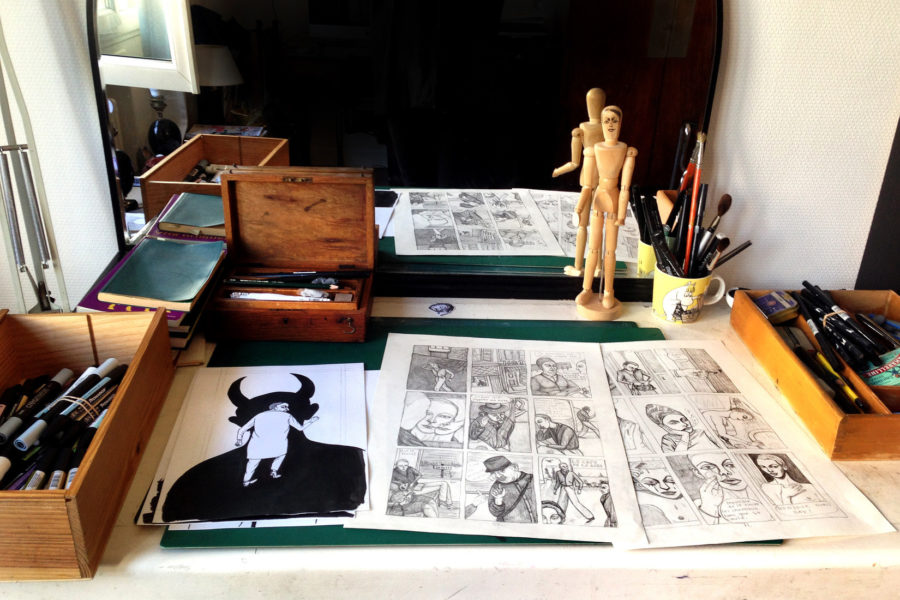 Date of birth: 16.05.1966
Place of birth: Linköping, Sweden
Place of residence: Paris, France and Stockholm, Sweden
Where did you train?
I'd rather say I'm 'self-taught', for I've been drawing since childhood. As an adult, when I was 35, I spent two years studying Illustration at Arts Décos (ENSAD), in Paris. It was wonderful to be able to draw full time, to have access to the studios, the equipment, the teachers and above all, to be surrounded by creative, open-minded friends. What is good with drawing is that one can always progress, find new ways of expressions. It's not fixed in a verbal language, it's universal.
When and for what reasons did you settle in France?
I came for holiday with a friend when I was 17. We took the train and arrived at Gare du Nord early in the morning. I immediately felt freer in Paris than in Sweden, and since that day, I dreamt of settling in this city.
Then, after my studies, I had more contact with the press and the world of publishers, and they gave me work as an illustrator.
What does France represent for you?
Difficult to answer that. It's a sensual country, where one can be very happy, where one can taste plenty of beautiful things, food and culture, all the museums, the cinema. But it's also a country where one can be very unhappy, there's a very fine line between those two feelings.
What about Sweden?
My most treasured childhood memories, poetry and nature.
What are your sources of inspiration and where do they come from?
I'm inspired by certain books I've read, by the atmosphere and the characters that intrigue me. Cinema also inspired me a lot, especially old films in black and white, but also David Lynch, the dream side.
For my attempt at comic book, I took my inspiration from two icons and friends of the Swedish photographer Christer Strömholm. He was documenting the life of two young transsexuals he had met on the Place Blanche in the Fifties, living with them. I was lucky enough to meet them 50 years later, when I took part in the work and the re-printing of the book Les amies de Place Blanche, in 2011. They took part with their own stories written down by the journalist Hélène Hazera. They were so touching, strong despite the unfair life and all the difficulties they experienced at the time to become who they wanted to be, themselves.
They were two film buffs, and that inspired me too, the harsh and unfair life of the street and that sensitivity to the screen, the dreamed life. They told me how it was to live like young transsexuals in the Fifties.
The images of Jacky and Nana speak louder than words. It was important to be aware of the injustice, the way they were hounded by society, all of that combined with their memories of life in Paris and its culture, the movie theatres, the details on their clothes and hairdos.
How would you define yourself and/or would you define your work?
Difficult, but once I read a comment on my drawings, describing them as "soft and violent at the same time." I liked that.
To finish, a few words on the illustrations I did for a children's book for the Bibliothèque Hergé in Belgium: "The characters seem to come from the circus, street theatre or Otto Dix' paintings. The expressivity of the lines and the flat perspectives ideally echo the sheer madness of the stories."