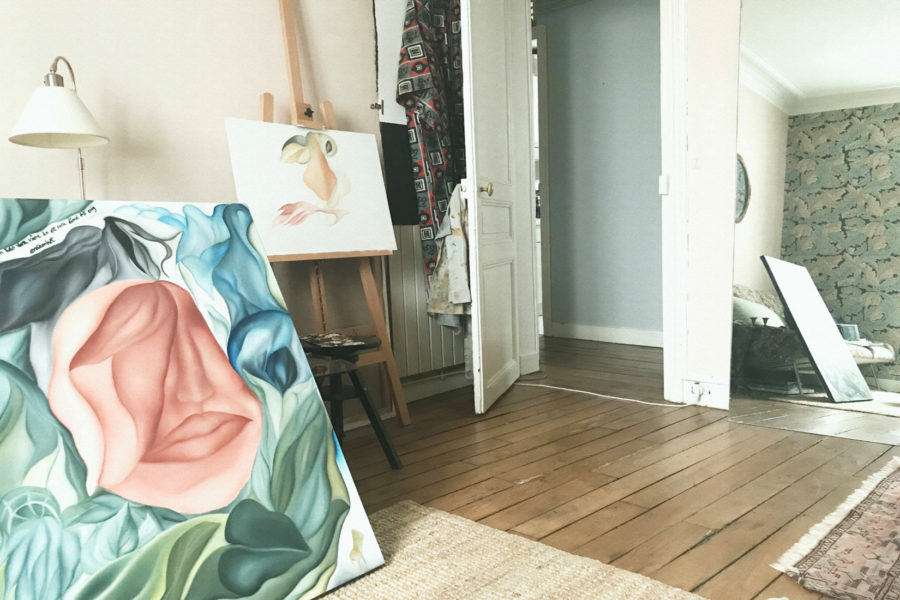 Date of birth: 04.04.1983
Place of birth: Malmö, Sweden
Place of residence: Paris, France
Where did you train?
One day I started painting. It happened. Now, slowly universe is finding its shapes, textures and colors within me. My eye, my hand, my body and my thoughts train me, wherever I am, whomever I am that day.
When and why did you move to France?
In 2009 I came to Paris. I have the greatest love here; a love I never thought was going to be made possible for me. Her sisterhood has raised me with love, respect, humor and intelligence. Her sisterhood has given me family, and a mother.
What does France mean to you?
A country name has so many layers, associations and generational misinterpretations. France gave me French, a language that freed me at a certain time in my life. France taught me to eat with love. But France is a box, like any other country – a shallow and superficial understanding of the space we live in.
And what about Sweden?
I didn't come to Sweden. We were both there from the beginning. And I wanted to leave. As I watched the horizon I imagined reality to lie on the other side. Light, smell, and colors – I only know the southern dimensions of the land. My desire to leave returns every time. It has nothing to do with the country but with my memories. I still have a lot to forgive. And accept.
What inspires you the most and where does your inspiration come from?
My personal definition of art is that Art is Emotion Without Instruction. Inspiration lies intervened within my personal relation to the work I do. This is not universal. The relationship someone else develops to my work is as real and significant as mine. It includes the imaginations, associations and assumptions of where inspirations might come from. Each painting is a relationship, is an emotion. Maybe if words could explain it all painting would not occur, at least not for me.
How would you define yourself and/or your work?
I am many (so are you). Would language be broad and precise enough to define the multiplicity of who we are I think many of us would be in a better place. Maybe it is our desire for systems that has us believe we can figure everything out and into fixed tenses. I think every definition is ephemeral and needs renegotiation. At this point in time I would use Olga, another sister's, definition – I am a woman finding my universe.
And I would add, that I do not think there is a line between who I am and my work nor is there one between my work and I. My work puts me and my emotions at the center of this universe, it is something quite close to freedom I think.