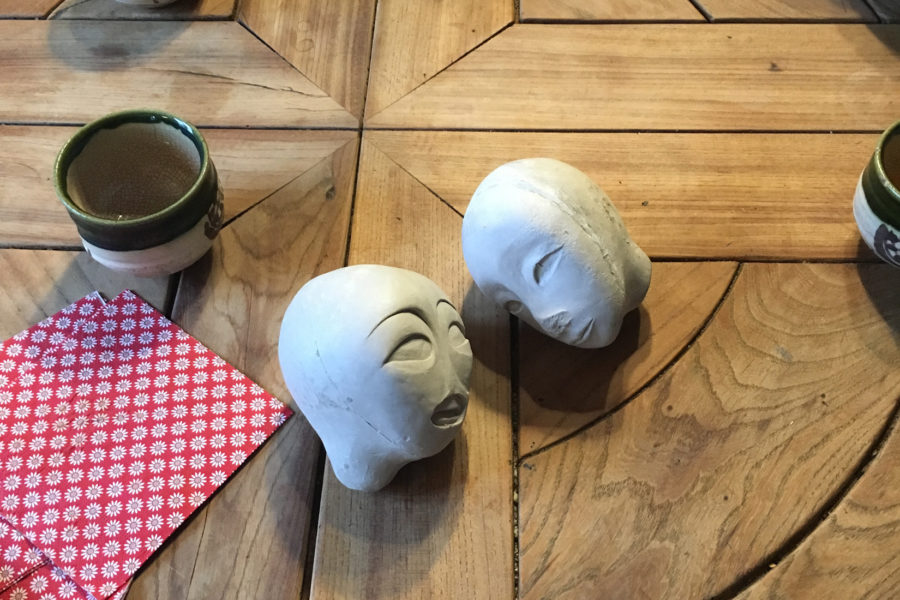 Please note that Eva Bergman will be bringing her puppets to life on Friday 24, Saturday 25 and Sunday 26 August at 4.30 pm. The story featuring Swane, in relation with the artwork Petite tête pour petite fille malade shown in the exhibition, and the one featuring Princesse Airelle (Princess Cranberry) will delight children and adults alike, so bring the whole family!
Each performance is in French and lasts about 45 minutes. Admission free, booking not required.
Date of birth: 26.09.1939
Place of birth: Stockholm, Sweden
Place of residence: Paris, France
Where did you train?
There where my life took me
a bit here, a bit there
there where my heart took a leap
there where my eyes have been dazzled
there where my hands became excited
When and for what reasons did you settle in Paris?
One summer night in Stockholm in 1956:
He:   How old are you?
She: 16, soon to be 17
He:   When?
She: The 26th September, and you, how old?
He:   18, soon to be 19
She: When?
He:   The 26th September too. We were born under the same star… Will you come
to France one day?
What does France represent for you?
A motherland amputated of something…
What about Sweden?
Sweden? That's where I hid the missing piece… but I forgot where the hiding place is…
What are your sources of inspiration and where do they come from?
See the answer to the first question! In reality, it hides everywhere and never ceases to amaze me.
How would you define yourself and/or your work?
Somebody told me a long time ago… "You make me think of a Christmas tree!" If that was the case, today the needles are falling. Nevertheless a few bits of bark remain, and some branches. That gives me an idea, I'm going to make a puppet out of it! And there's a candle that flickers still! There's hope! Perhaps…